State of the Art facilities are provided to the students
Indoor Stadium
Play Ground
Canteen
Infirmary
Well equipped labs – Physics, Chemistry, Biology, Gen.Science & Computer Science
Counsellor's Room
Special Educators room
Auditorium
Multipurpose hall
Pre-primary Play Area
Amphitheater
Table Tennis Room
Audio visual Room
Well equipped Class rooms with smart boards
Rotunda with School Temple
Art & Craft Room
Well equipped Library with a separate reading / reference section
Spacious parking area
3 Computer labs – Junior, Senior & Teachers
Open air stage
Security Measures Undertaken
Extra 2 lady security guards have been appointed
New lady sub-staff have been appointed.
Staff Police Verification has been made
Extra gates have been installed.
Existing gates have been increased in height.
Barbed wire fencing has been installed on the rear boundary compound wall.
Fire extinguishers have been installed in all the laboratories, corridors, library, auditorium and parking area.
Fire Fighting training has been completed for the entire staff.
Teachers, Sub-Staff and drivers have undergone an orientation program on safety in school.
Two Teachers have been deputed on each floor for round the clock vigilance.
Floor plans and emergency exit plans have been displayed on all the floors and at vantage points.
ID cards have been distributed to all the Parents, Staff and Students.
Parent vehicles entering the school premises are issued `Vehicle Pass' on verification of the vehicle documents.
Staff vehicles entering the school premises are issued `Staff Vehicle Parking Permit'.
Entry / Exit of the visitors is monitored at the main gate. `Visitors Pass' is issued to them.
Wearing of ID cards by all employees of the school is mandatory.
Additional CCTVs have been installed. There are 118 cameras in all.
Lady Sub-staff have been deputed in all the toilets – both boys and girls.
Steel water tanks and Aqua Guard Filters have been installed on every floor.
In case a child is sick, he /she is given First Aid and taken to the hospital if required. Parents are informed immediately.
All detailed information about private van drivers is lodged with the office.
Children are not kept back in the school for any reason after the school working hours.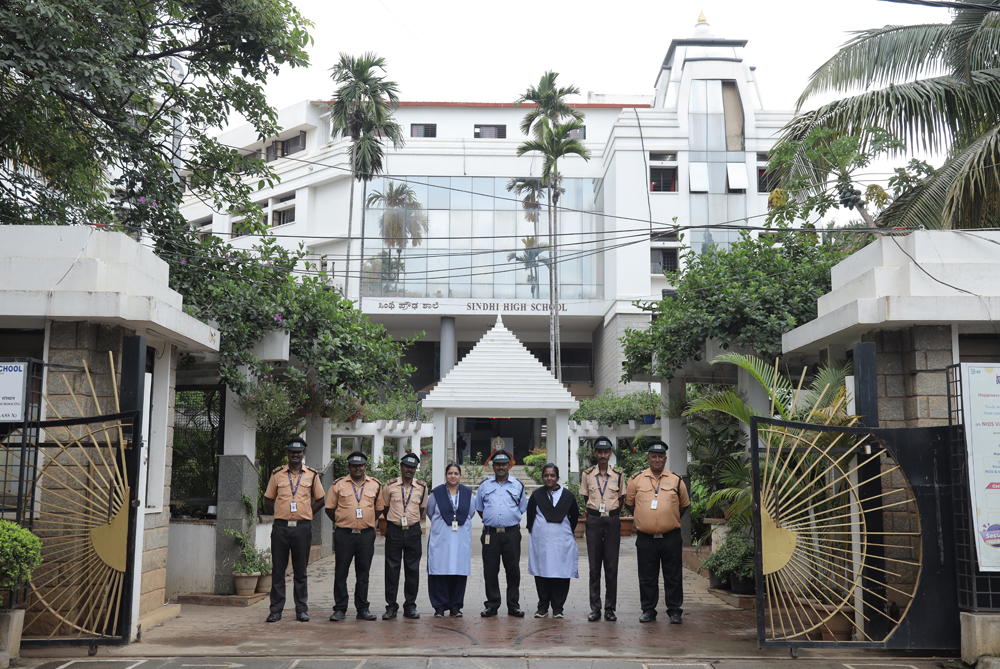 "Coming back to school is a reason for celebration because it means a new step towards a wonderful future. Play, Learn and Grow Together."
Dear Parents, Please Note:
Students should enter the school through Gate-3.
Students should go to their previous year's classroom, keep their bags and assemble in the ground for assembly.
After the assembly, the respective class teachers will inform the students about their new class & section.
Students will go to their respective new classrooms after the assembly only.
Students should strictly avoid overcrowding, shaking hands and hugging each other inside the classrooms and in the school premises.
Students to strictly maintain social distancing in common areas.
For their own safety, it is mandatory for all students to wear a mask when in school.
Students should carry a small bottle of sanitizer with them.
Students should practice good hygiene and wash hands especially before eating and after using the rest room.
All students must have an emergency contact number in a notebook in case a parent/guardian is not contactable.
Please inform the school office as a matter of priority if any of your contact details have changed.
All appointments (medical, dental, etc) should be arranged for after school hours. If an appointment is really important and cannot be scheduled for after the school time, then the student should stay at home on that day.
Walking/cycling to school is encouraged.
Since the road in front of the school is narrow, please try to avoid heavy vehicles/four wheelers.
We expect your co-operation in ensuring that your ward has a comfortable commute and stay in school.